The Tigerfibel

&nbsp
---
Tiger crewman went through many hours of both classroom and hands-on training at the panzer school located in Paderborn, Germany. While serving as the head of training for the Inspectorate of Panzer Troops, Oberstleutnant Hans Christern, a Knight's Cross holder, decided it would be beneficial to develop a special training booklet for the Tiger students. This booklet was assigned the official publication number of D656/27 and given the name Tigerfibel, which means Tiger primer.

The task of writing the new training manual was assigned to Leutnant Josef von Glatter-Goetz. Glatter-Goetz conceived the idea of writing a manual that would get the attention of the young men training on the Tiger. To do this he used humorous and risque cartoon illustrations along with slang the combat troops would identify with.

Hans Christern
The illustrations in the Tigerfibel were done by Obergrenadier Gessinger and Unteroffizier Wagner. These included allegorical sketches, technical drawings, photographs and cartoons. The cartoons often involved an attractive blonde woman named Elvira who frequently found herself without any clothes or in a romantic setting with cartoon Tiger crewman. The Tigerfibel also contained many short, memorable verses and limericks referred to as "morals" or "mottos". All of this was done to capture and hold the attention of the fledgling trainees.
Original Tigerfibels. From the author's collection.
These were printed with a thick heavy cover and thin, newsprint like pages.
Subjects in the manual included details about the Tiger such as it's maintenance requirements and peculiarities and tips on things like gunnery, driving, and radio operation. Although it was quite unconventional when compared to any manual they had used before, the Tigerfibel was authorized by the German Army and it proved to be very effective training aid.
Each Tigerfibel also came with a set of fold out supplements that were contained in a pocket on the inside of the back cover. One of these supplements folded out to reveal black and white photos of various Allied tanks along with data on each vehicle to aid the crew in recognition. Other supplements showed graphically at what range the Tiger could be penetrated by and in turn itself penetrate enemy armor such as the Sherman or T-34.
A pocket inside the rear cover held the supplements.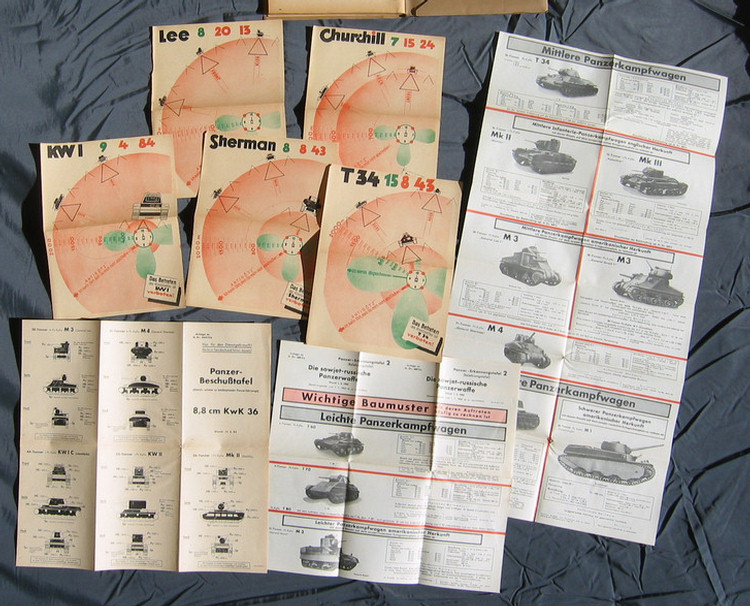 Photo showing the various supplements found in the back of the Tigerfibel.
The Tigerfibel set a new standard for training manuals. It was so successful that a similiar volume, the Pantherfibel, was developed for the Panther tank in 1943. And the Tigerfibel was extremely popular with the crews. Long after their classroom instruction was over and the Tiger crewmen were in the field, the Tigerfibel continued to serve as a handy reference book.
---
Presented below is the entire Tigerfibel which may be paged through using the navigation arrows.
Special thanks to David Byrden for allowing the use of his scans. To see Tiger information
you won't find anywhere else visit David's website at http://tiger1.info
---